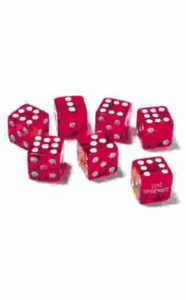 Following the Winter Reading Challenge, each month we'll be sharing information on one of the titles with the review provided by the reader.
This month, we're promoting 'The Dice Man' by Luke Rhinehart which has been recommended as 'an excellent read'
"Imagine living your life by the throw of dice with each pair of numbers committing you to an irrevocable course of action. Well that is the fate that the protagonist lives by in this fictional tale of chance, mystery and excitement. This is one of those books that is really hard to put down. The storyline is clever and the story itself is very well written. The Dice Man is a fabulous read and it is one of those books that is fully entertaining from cover to cover. The author has a wonderful way with words and creates a timeless classic through an original tale well told. I came across this book by pure chance and I know it will be a read that I come back to again".
Available in paperback or as a Kindle ebook. 
Published by Harper Collins, 1999
ISBN: 0006513905